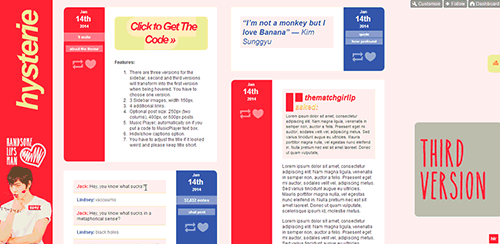 Features:
There are three versions for the sidebar, second and third versions will transform into the first version when being hovered. You have to choose one version.
Optional post size: 250px (two colums), 400px, or 500px posts.
3 Sidebar images, width 150px.
4 additional links.
Music Player, automatically on if you put a code to MusicPlayer text box.
Hide/show captions option.
Important Notes:
When you edit it in the customize page, it will look kind of messy in the preview but it's actually not messy when you look at the theme other than in the customize preview.

You have to adjust the title if it looked weird and please keep title short.
You can adjust the sidebar links and description too. Reduce the number if you want them closer to the top and increase it if you want them further from the top.